Networks
Can your computer connect to the internet?
If not, contact or visit a ClickAway store.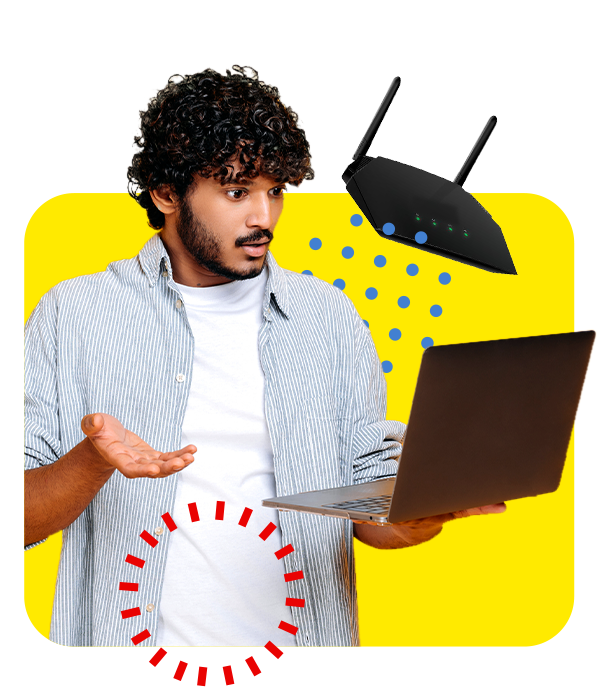 We repair problems like yours every day on most WiFi and Ethernet networks including those using equipment from TP-Link, Ubiquiti, Linksys, Netgear, and Asus.
You experience network problems as frustrating, aggravating, or infuriating mismatches between what you expect and what the network actually does. Maybe you can't surf the web, access your email, use your printer, make or receive VOIP calls, or see your security camera images. Those mismatches are symptoms.
Network symptoms can be caused by any of the following components:
Your Internet Service Provider (ISP).
Modem
Router
Switches
Access Points
Cables
Computer Network Interface
Operating System (OS)
OS Configuration
Drivers
Neighboring WiFi systems
Electrical/Magnetic Interference (EMI)
Just like in medicine, network diagnosis is the process of determining what system component is causing the symptoms. Once the root cause component has been identified, it needs to be repaired or replaced.
ClickAway's customers usually don't want or have the time to get into the details. Our technicians have diagnosed, repaired, and replaced thousands of networks, so they have the knowledge and skills to do the job right. That is why we say, "we're your tech experts, so you don't have to be."
Since the diagnosis process begins with your description of symptoms, we organized the menu to make that easier. Just click on the menu item that is closest to what you're experiencing to see a more detailed description of the problem and how ClickAway can fix it. Then, contact or visit a ClickAway store to launch your repair or replacement.
At ClickAway's computer repair shops, we understand the crucial role technology plays in today's fast-paced world. A malfunctioning network can disrupt your routine, hinder productivity, or even jeopardize valuable, sensitive data.
That's where we step in to provide first-rate printer repair services. Our team of experienced technicians is committed to diagnosing and addressing a broad range of hardware and software issues.
In an ever-evolving technological landscape, our knowledgeable technicians stay up-to-date with the latest trends and advances which allows us to service a wide range of networks.
Fastest Turnaround. Best Quality. Work Directly with a Tech Expert.
Ask us about our Low-Price Guarantee.